I have small band of quality brood-mares that will be exposed to Spooks Delta Dude for 2022 including QH own daughters of High Brow Cat, Smart Beckett, Smart Aristocrat, Athena Puddy Cat & Pepinics Master, as well as an APHA daughter of Color Me Smart & an APHA grand-daughter of Strait from Texas.  Most of my registered Quarter Horse mares are either money-earning producers or money-earners or in some case both.
 
DO BE COLORD  aka "Princess"
 
I was VERY EXCITED to have added this lovely lady to the broodmare band at Down The FENSKE Cow Horses just in time for breeding season 2016. 

APHA cutting/cowhorse breeding at it's finest, a daughter of the great COLOR ME SMART out of a DUAL PEP/FRECKLES PLAYBOY mare, she has proven to make for an awesome cross with the one and only, SPOOKS DELTA DUDE!  So far, Princess has had 2 fancy foals, a colt and a filly,  and if she continues to produce more like what I've seen so far, I am predicting some future champions are in the making!!
 
Princess was unshown herself due to injury but has some pretty nice offspring that are making it up for her
Princess will be exposed to Spooks Delta Dude for May foal in 2022
 
6 panel tested N/N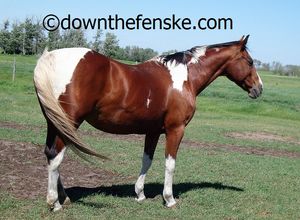 OMEGA KITTY,  also known as Kat joined the broodmare band at Down the FENSKE Cowhorses in  February 2012 to produce some quality cowhorse babies when crossed with Spook.  She is a sweet-sweet mare who practically floats across the pasture and with the superstar sire, High Brow Cat she has being doing an AWESOME job of producing babies with Spook that are FULL of COW and some pretty fancy packages as well.  So far I have been VERY impressed with the colts from this cross. 

Omega Kitty is the dam of DFN SPOOKY CAT, 2015 Gelding (sired by Spooks Delta Dude), who has been my most successful colt so far, with earnings currently over $28,000.  DFN SPOOKY CAT has a long list of accomplishments - check out the extensive list on the "Show String" page 
(click to watch video of DFN SPOOKY CAT in action)  
5 Panel DNA Test Results:  HYPP N/N   HERDA N/Hrd   GBED N/N   PSSM1 N/N   MH N/N

Kat has a fancy filly in 2021 & will be exposed to Spooks Delta Dude to foal mid-May 2022
ATHENA LIL PEP
ATHENA LIL PEP  aka "SOFIE" arrived at the ranch fall of 2019.
Sofie is a QH daughter of ATHENA PUDDY CAT (x High Brow Cat) and out of a daughter of MISTER DUAL PEP.  As we watch the "CAT" lines cross so nicely with Spook, it seemed like she'd make a nice addition to my pasture!! 
She already has at least one of her colts hitting the show-pen in the cutting arena, so we're excited to see what she will produce when crossed with Spook! 
Sofie was bred to Spook in spring 2021 to make some nice APHA colts starting spring 2022.