*** NEW IN 2019***
FROZEN SEMEN from SPOOKS DELTA DUDE is now available for shipping anywhere in North America !!
(contact for pricing and further info)
SPOOKS DELTA DUDE is the Equistat  
#1 APHA Reined Cow Horse SIRE for 2015-2020 & 2016-2021!!!
Spooks Delta Dude is also SIRE of the #1 APHA Reined Cow Horse
in 2020 - DFN SPOOKY CAT !!
In 2015 Spooks Delta Dude was named
APHA Reserve WORLD Champion in Novice Amateur Reining
& also came home from the APHA world show with top 5 finishes in both
Amateur Working Cow Horse (3rd) and Open Senior Working Cow Horse (5th)
in 2017 Spooks Delta Dude returned to APHA World Show and was awarded:
3rd - Amateur Working Cow Horse
3rd - Open Senior Working Cow Horse
6th - Amateur Ranch Riding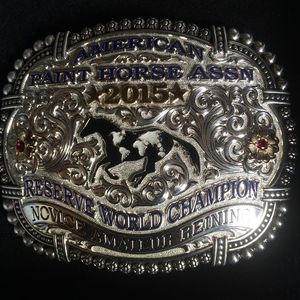 Spooks Delta Dude, better known as "Spook" is definitely the total package. A sweet tempered stallion and a tremendous athlete; super talented and very cowy. He has been a crowd favorite from the beginning, possessing such personality and presence that everyone just seems to love him. He has what can only be explained as a magnetic personality. People cannot seem to watch him work without coming over for a closer look or visit. He is as gentle and quiet as the day is long but don't be fooled into thinking that is all there is to this guy. The talent that this horse possesses is unreal. Along with talent, other words commonly used to describe this guy (especially going down the fence) often include GRIT, GUTS, HEART and of course in general, very trainable and naturally athletic!
SPOOKS DELTA DUDE tested N/N for all 5 on genetic disease panel
Color Tested   E/e  A/A 
OLWS N/N    Sabino N/N   Tobiano N/TO  
Splash White   N/SW1    N/SW2   SW3 N/N
the quick, or layman's explanation of all the letters above, for those not into genetic-study, means he's color-tested as BAY – yes, underneath his HUGE white-spot is a bay horse!!!  All the white comes from multiple paint color-patterns which include Tobiano and Splash-White SW1 & SW2…Spook is also Negative for Overo Lethal-White as well as all 5 of the diseases on the 5 panel genetic disease test
SPOOKS DELTA DUDE is nominated to the Sask Reined Cow Horse Association Stallion Incentive Program, making any of the foals eligible for nomination into this exciting program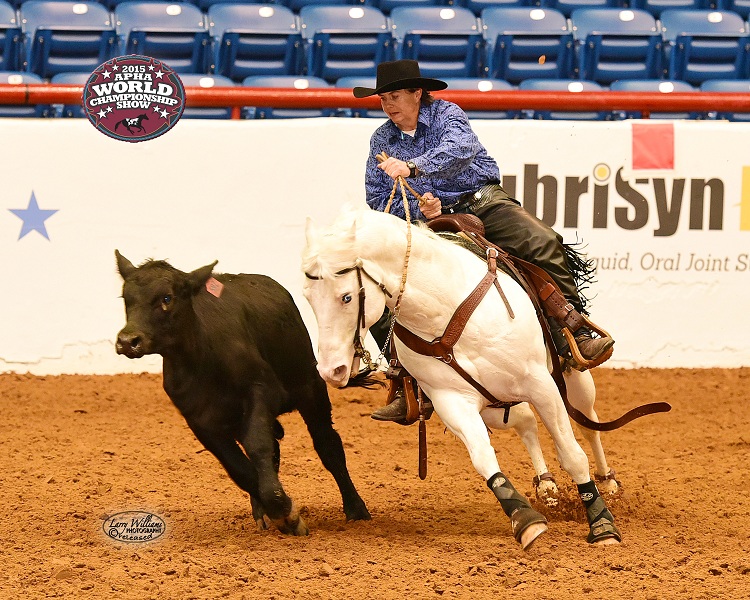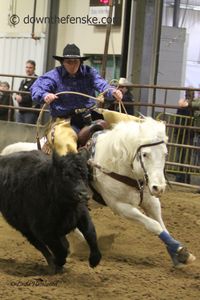 APHA 938864 Bay Tobiano + Splash Overo



Early on I made what may seem to some as an unorthodox decision that rather than use a trainer, I would do all the training I could handle on my own as a non-pro. It took me exactly one ride to decide that I had made the right decision and have been thankful so many times along the way that I am the one who is getting to enjoy this process with this very special horse. We have developed a very special bond & partnership along the way as I am the only trainer he's ever had on his back, and it has been so very rewarding to see where this trail is taking us -- places we hardly dreamed we'd be dreaming of as possible are actually starting to happen. He is definitely the most talented horse I have ever had the pleasure of working with and can't wait to see where we go next!

Spook has made the finals (top 5) at the Canadian Supreme in the Non-Pro Bridle class in 2014, 2015 & 2016
finishing either 3rd or 4th in one of the most prestigious working-cow-horse events in Canada, and in 2016 ended up Reserve Champion in the Novice-Non-Pro Bridle class at the Canadian Supreme as well.
In fall of 2015 we crossed a HUGE item off our "buck-it list" and headed all the way to Fort Worth, Texas to compete in the APHA WORLD CHAMPIONSHIP SHOW !! Such an adventure had NEVER even entered my mind until Spook came along, but it had been one of my major goals a very long time, so it was pretty amazing to finally make it happen. After a respectable showing in 2015 and returning home with a Reserve World Championship in Reining, we decided to make the trip again in 2017, this time with not only Spook but also with one of his offspring along for the show. I was certainly very proud of how both horses showed at such a huge event; Spook ended up 3rd in both the Amateur and the Open/Senior Working Cow Horse classes which is an amazing accomplishment (in the Amateur we were only ½ point out of reserve spot & in the open class we were competing against ALL full-time trainers!) and also ended up 6th in the Amateur Ranch Riding class which had a huge entry of 37 horses!! Doc (4 yr old DFN SPOOK A DOC) ended up placing in Top 5 in all of his classes which were all Working Cow Horse classes.
Time will tell if we're able to go back again, but knowing we were not at all out of place in that crowd was pretty rewarding in itself!

Certainly, winning what he has & placing where he has placed in Canada, and of course, coming home with a reserve WORLD CHAMPION and now 3 top-3 finishes at the APHA World show, I do believe is a SUPER accomplishment for a stallion that has NEVER had a professional trainer on his back EVER!!  I do not think many of the horses (if any) that we were competing against either in Canada or USA, could say the same thing, and to see ourselves not only competing, but being genuinely competitive in what now seems like pretty much any crowd, makes me so SUPER PROUD of what we have accomplished so far….and of course, stay-tuned, our story is FAR from over yet !!!   This horse continues to amaze me as he continues to still get better and better as time goes on.  
Spooks Delta Dude is now retired from the show-pen but his legacy is continuing on in his foals & now has offspring earnings over $42,000 with only a few of his babies having showed so far.  Although it is tough going down the road and leaving him at home, this next chapter of showing the offspring that I have raised from the start, brings much satisfaction and excitement as well!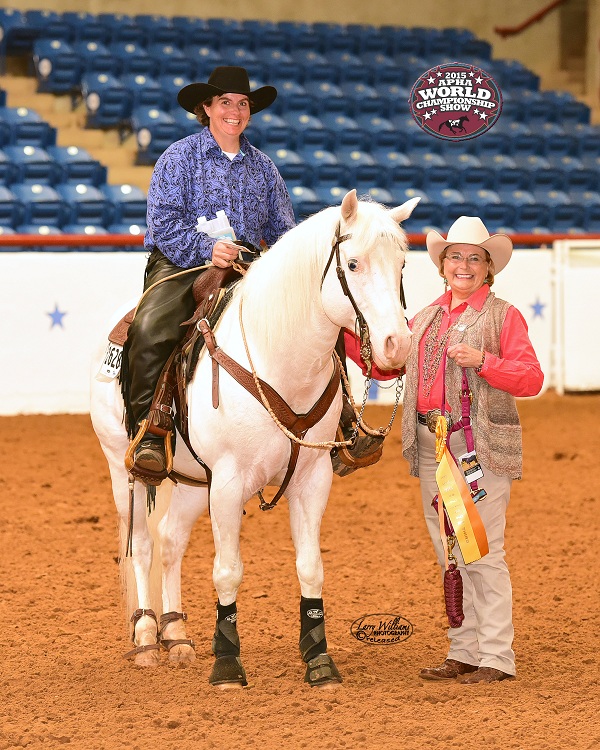 Spook has over $20,000 in earnings in working cow horse, ranch-cutting, ranch-horse-versatility & reining
In 2015 Spooks Delta Dude was named
APHA Reserve WORLD Champion in Novice Amateur Reining
Other APHA WORLD show accomplishments include:
2x Top 3 - Amateur Working Cow Horse (2015 + 2017)
2x Top 5 - Open Senior Working Cow Horse (2015-5th + 2017-3rd)
See Spook's "AWARDS" page for current list of accomplishments.
Spooks Delta Dude 
will be standing to a limited number of approved outside mares
on a private treaty basis and using FROZEN semen only
please contact for pricing & further details
*** FROZEN semen is now available for shipping across North America ***
please inquire if interested
FOALS WILL BE eligible for nomination to the SRCHA Stallion Incentive Program
SPOOKS DELTA DUDE tested 5 panel N/N & Lethal White Overo N/N